Ready for a bit of idea-powered rocket science?
Rule number one for a successful business start-up: Give people something they love.

Rule number two for a successful business start-up: Give people something they can't get anywhere else.
(There are, of course, 386 other rules, but I don't know what they are.)
Now before you dismiss me as an aimless pretender, have you ever heard this:
"Everyone loves surprises."
?
Ah ha! Yes, you have! Now then, people love surprises do they..? Wait a minute – that fits the first rule for a successful business start-up!
Now, I wonder… How about the second rule? Can people get surprises anywhere else (other than the business I am obviously going to suggest you set up in a minute)?
"Of course," you are saying, "I get surprises every Christmas from a fat, bearded, foreign burglar." Yes, very good. And you have to wait all year. But in the meantime, where can you get surprises for yourself?
Nowhere.
Until now…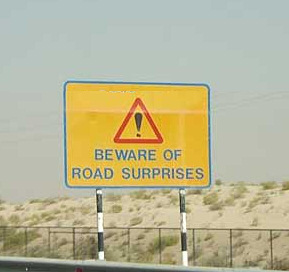 (Go to Intense Experiences and look at the ridiculous signs!)
Idea #15: Sell surprises
Set up a business that sells surprises. The idea is that people don't find out exactly what they're getting until they've bought it.
There are different ways to approach this. The Something Store is an online shop that sells you 'something' for ten $10. I mean it could be anything… apart from these. (Great if it could be some of those though – imagine getting severed hand in the post! That would be a surprise!)
Sounds great for a novelty, but I think selling surprises can be practical as well. Personally, I get overwhelmed by the amount of choice available in every circumstance. While my mind has evolved to choose between hitting another ape with a stick, or hitting him with a rock (still actually a key decision in some Newcastle bars), I am more likely to be faced with the sandwich selection in Tesco Express. And break down in tears.
(Closer to the truth in Shanghai is that I'll be faced with the choice of rice or noodles, pork or beef, and everything will be just fine.)
The Hipstery makes more practical sense. It's an online T-shirt store that'll sell you a T-shirt with a hip and mystery style – you just give them your size. It's genuinely a good option for someone who just wants a cool T-shirt but can't be bothered to shop.
That's spiritual peace. Leave the soul to worry about something other than BLT or Christmas Turkey Special. This is the kind of thing I have in mind for your surprise shop, but you'll sell a lot more stuff:
Surprise Food
Ideal! Who wants to stand choosing between pasta salads for 35 minutes of a half hour lunch break? Not me. Supply me with a lunch bag please, and let me have that in-flight meal excitement every day of the working week.
Same in the evening. I am wasting my home time in Tesco Express! Put my dinner in a brown bag and let's be done with it. Perhaps you could offer me a token of autonomy by labelling bags "Healthy", "For Gluttons" or "An Indian". And make them good, or I won't trust you next time!
Surprise Clothes
Outfits. I want whole outfits. Whatever I'm not suited with in terms of style, will be more than made up for by the fact that I did not make this mess of myself – as fashion dictates that everyone do – plus the thrill of the surprise! I'd say some labels like 'Gansta Outfit', "Person With "Unique" Style' or 'Middle-aged Man On Mediterranean Holiday', will ensure I get more or less what I'm looking for. What a terrible shame.
Of course, you could just do individual items like 'T-shirt' or 'jacket', but that would be a weak move.
Surprise Music
We all know that music should be free, and largely is, but how about making monthly mix CDs of some random upcoming artists so people can give them as presents (e.g. 'Rock', 'Hip hop'). The artists would be pleased to be featured and may not even want royalties.
Alternatively, providing these mixes as podcasts or for free download on your website would be a good way to draw traffic.
Surprise Experiences
Red Letter Day style. People who book it just turn up at your store and you take them away to do something for the day. Obvious things would be paintballing or racing cars. Less obvious would be blindfolding everyone and leaving them in a forest. (Easy way to make money though.) Horses for courses.
Surprise Holidays
The most extreme, and best, part of the business. You sell holidays with surprise destinations. Preferably charter a flight and get the airport to put the destination code as 'SUR'.
I did this with some friends at university when Ryan Air started offering free flights. We scrolled down the list and bought tickets to the first place we hadn't heard of. Ended up going to Klagenfurt. Great trip!